The BuildBox game engine is now available in a free version.  Previously a rather expensive proposition, BuildBox Free enables a much larger portion of the developer community to access this no-code required game engine.
Details of the BuildBox Free release from the BuildBox website:
What is Buildbox Free?

For the first time ever, we're releasing a completely free version of our no-code software on December 18th. We're calling it, Buildbox Free and with it, you can create professional 2D and 3D games without writing a single line of code. Our software features unique creation layers, which makes developing games extremely easy and lightning-fast. As shown in the video above, there are many different creation layers you can choose from when you're making games with Buildbox.

Smart Assets

The first creation layer option is smart assets. They're predefined asset templates with pre-canned animations and logic built-in to make building out your games super fast and straightforward. Just browse the Buildbox Asset Library, which is located right inside of the software, and choose a smart asset to start creating. Smart assets let you add popular gameplay mechanics instantly to your game with one-click.

Brainboxes

One of our newest features and the second creation layer in Buildbox is brainboxes. Brainboxes help take your 3D game development to a whole new level. They work much like components did in Buildbox 2, but provide more control over a 3D model. With brainboxes, you can add 'brains' to any character or object in your game to give them a specific action or behavior. Choose a brainbox to make a car drive or make your character walk.

Nodes

For even more control, you can also use the third creation layer, nodes. Buildbox has an advanced node system with 'smart nodes' that are easy to use. They add a deeper level of complexity to your game by allowing you to easily create logic for any character or object in your game. However, you're not limited to the nodes available in Buildbox. We went even further and added another layer of creation for our advanced developers.

Low-Code

This fourth creation layer is the low-code option. All nodes are based in JavaScript, making it easy in Buildbox to build your own nodes to use for your games from scratch. They can also be easily shared with the community or even sold in our upcoming asset store.

2D & 3D World Creation

We've also vastly improved the software making the user interface more user-friendly with mini-tutorials and easy navigation options. There's also been over 100 fixes and tweaks to make your game development experience better. We've added many new creation layers and features including designated 2D worlds, and a fly mode for moving around 3D worlds effortlessly.
An obvious question at this point is, what are the limitations of the BuildBox Free vs the Pro edition.  This was answered in an earlier blog post:
Buildbox Free is a lighter version of the Pro plan. This means there are some limitations. With Buildbox Free, you'll be able to integrate only two popular Ad Networks: AdMob and IronSource, with a 10% or less cut taken from each. There is a one-world limitation. Plus, your game's splash screens will feature the BB logo, which cannot be removed. Also, export is limited to only iOS and Android.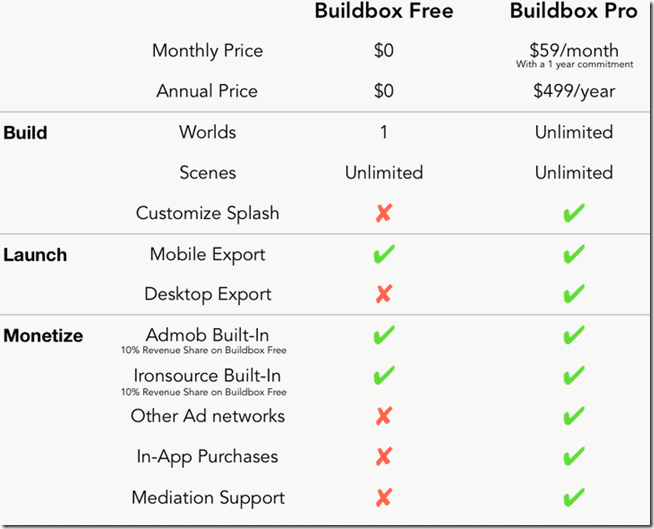 BuildBox free should be available for download now right here.  Learn more about BuildBox Free in the video below and stay tuned for a more in-depth hands-on feature on BuildBox in the near future.
EDIT – They have released the following blog post now that the countdown is over.  The form to get a download link and product key is available here.  A warning, they seem to be suffering heavily under demand (not to mention a janky signup process).
---