Ok, this one is a bit off the topic of game development, but I figured I would share it here for other people struggling with slow renders in Camtasia. I use Camtasia Studio for all of the video tutorials here on GameFromScratch and while I enjoy the program, rendering speeds vary between awful and OMG!MAKEITSTOPBURNBUUUURRRRNNNN.
It pains me to say I never thought about this as a way to speed things up until now. As of Camtasia Studio 8, they started supporting CUDA rendering on GPU. Problem is, if you like me are running an Optimus GPU, it uses the wrong one and the results are way slower. Telling it to run on the dedicated GPU resulted in a 3x increase in speed for me.
Simply right click the shortcut or executable and select the high performance GPU:
This is standard behavior on trying to get all sorts of games to run correctly, but sadly it never occurred to me to try it with Camtasia. This setting can also be permanently set using the nVidia Control panel, but I'll leave that as an exercise for the reader, there are a few thousand documents covering this already.
If your machine doesn't have Optimus, it might still be a good idea to try rendering with GPU support off and seeing if you get an increase, simply go to Tools-options and untick the appropriate setting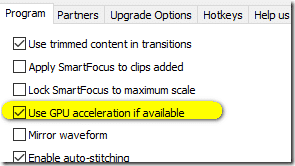 I'm amazed that Camtasia support aren't making this exceedingly to start with. This little fix is going to save me about 2 hours a week on average!
There is a video version of this process available here or embedded below.
Totally Off Topic Tips
---