You can head over to their website and download it completely free.  RenderDoc in their words is:
Renderdoc™ is a standalone program that can be used to capture and replay frames from any Windows application using Direct3D 11.0 or 11.1, and provides tools for deep analysis and graphics inspection, as well as detailed examination of API usage – allowing developers to locate bugs and problems in their programs. 

Developed by Crytek, Renderdoc™ has been built from the ground up to reflect the real needs of graphics programmers, and has evolved based on its day-to-day usage in the creation of CRYENGINE titles. 

Plans are in place to increase Renderdoc™'s functionality over time, adding support for other platforms and APIs such as OpenGL. To contribute to the community and drive the future direction of the tool's development, join the discussion about Renderdoc™ at http://www.crydev.net/renderdoc.
There are a few more requirements listed on their RenderDoc discussion forums.
RenderDoc is a free standalone graphics debugger (not CRYENGINE specific) that currently supports D3D11. If you have a graphics issue you'd like to debug with your application then RenderDoc might be for you.

The latest installer for version 0.18 is available for download.

You should download the version that matches your operating system – 64bit or 32bit. The 64bit version of RenderDoc will be able to capture both 64bit and 32bit programs.

You will need the .NET 4 runtime, the VS2010 SP1 C++ redistributable and either the latest DirectX runtime or a recent version of windows that ships D3DCompiler_XX.dll. The Replay UI currently requires feature level 11.0 at minimum, so any hardware incapable of creating a feature level 11 device will fail to load any log.

To get started there is a quick start guide in the included documentation that you can follow. RenderDoc uses a capture-and-replay workflow, so you will need to launch your application through RenderDoc, then capture a frame to analyse it offline.
At some point in the future, the code is expected to be released on Github, for now, it is only home to the current bug list.
One important thing to note, is this product isn't tied to CryEngine and can be used by any developer with a Direct3D title.
Below are screenshots of RenderDoc in action.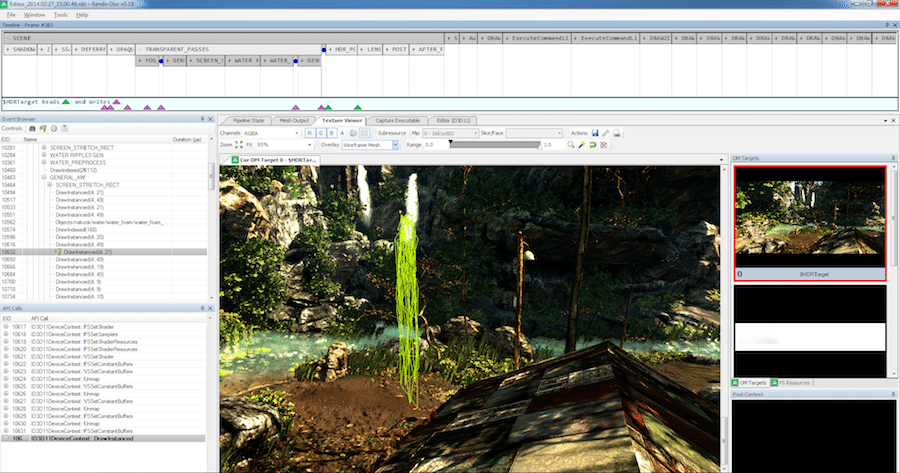 High resolution versions of these images as well as the zip download are available on CryEngine.com.  The download is a single 12MB zip file.
---