The Epic MegaGrant program was first announced at GDC of 2019 and is a $100M fund by epic games to support game developers, open source projects and others. The Godot Engine project just joined past recipients such as the Blender foundation, receiving a cool 1/4 million USD in funding.
The story was broke by Gaming On Linux, but has been all but confirmed by Tim Sweeney, CEO at epic, in this Twitter exchange.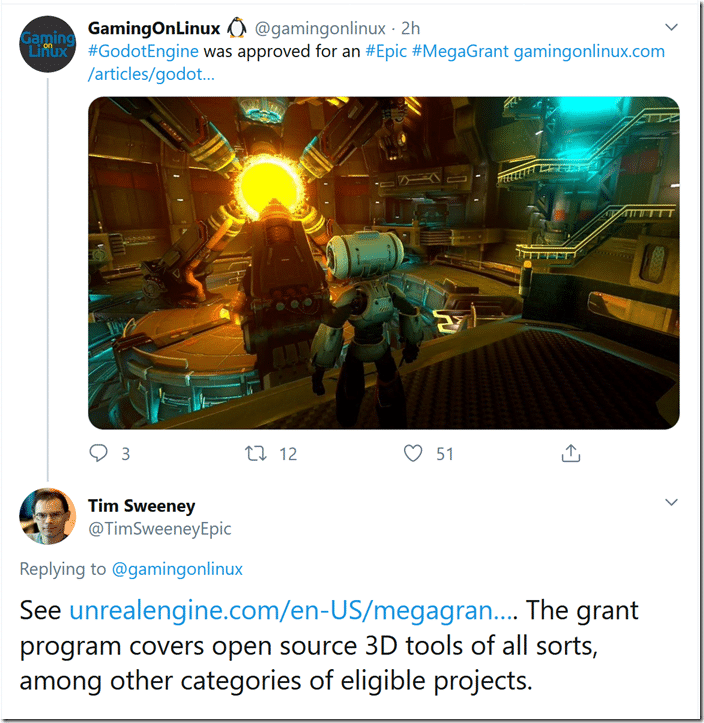 Details from GamingOnLinux:
Some good news to share for the free and open source Godot Engine, as the lead developer Juan Linietsky announced during GodotCon that Epic Games have approved them for an Epic MegaGrant.

This was announced during Linietsky's talk on porting Godot Engine over to the Vulkan API, which is coming with Godot Engine version 4.0 later this year. Epic Games have approved them for a sum of $250,000 USD which they've known for a little while, but they only just got the okay to announce it.
The GodotCon YouTube livestream video link is available here. You can learn more about the Epic MegaGrant program here or by watching the video below.
EDIT – There is not an official news story up on the Godot website.
---