Krita is a popular open source painting application and they just hit a pretty major milestone today, the release of Beta 1. This is a feature complete test version of what will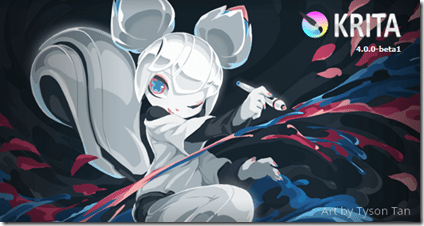 ultimately become Krita 4. Unfortunately the new text tools didn't make the cut, so a stop gap solution was implemented lack some features. Also be very aware of this warning before you start using the Krita 4 beta!
THE FILE FORMAT FOR VECTOR LAYERS HAS CHANGED. IF YOU SAVE AN IMAGE WITH KRITA 4.0 THAT HAS VECTOR LAYERS, KRITA 3 CANNOT OPEN IT. IF YOU OPEN A KRITA 3 FILE WITH VECTOR LAYERS IN KRITA 4, THE VECTOR LAYERS MIGHT GET MESSED UP. BEFORE WORKING ON SUCH FILES IN KRITA 4, MAKE A BACKUP.
Simple put, documents created or saved in Krita 4 will no longer work in Krita 3 if it uses new vector or text functionality!
New features from the release announcement:
SVG vector system, with improved tools and workflow
New text tool
Python scripting
SVG import/export
Improved palette docker
Bigger brush sizes
Improved brush editor
Refactored saving and exporting: saving happens in the background, and export shows warnings when your file contains features that cannot be saved to a given file format
A fast colorize brush
The default pixel brush is much faster on systems with many cores
Lots of user interface polish
The beta is available for download from a link at the bottom of this page.
---