This page is in support for the video tutorial on using Sprites/Images in Love as part of the GameDev For Complete Beginners tutorial series. It contains the code and images used in the tutorial. There is also a copy of the tutorial embedded below.
Images
The graphics are from this pack of images, made transparent using this process.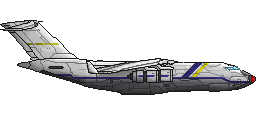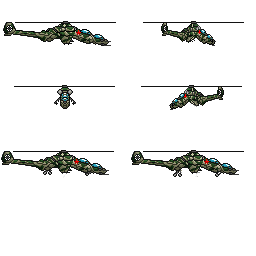 Simply right click and save to your project directory.
Source Code
Drawing an Image
local

 imageFile    

function

 love

.

load

()

      imageFile 

=

 love

.

graphics

.

newImage

(

"ALC-17.PNG"

)

  

end

    

function

 love

.

draw

()

      love

.

graphics

.

draw

(

imageFile

)

  

end

  
Using a Spritesheet
local

 imageFile  

local

 frames 

= {}

    

local

 activeFrame  

local

 currentFrame 

=

 

1

  

function

 love

.

load

()

      imageFile 

=

 love

.

graphics

.

newImage

(

"AttackChoppers.PNG"

)

      frames

[

1

] =

 love

.

graphics

.

newQuad

(

0

,

0

,

128

,

64

,

imageFile

:

getDimensions

())

      frames

[

2

] =

 love

.

graphics

.

newQuad

(

128

,

0

,

128

,

64

,

imageFile

:

getDimensions

())

      frames

[

3

] =

 love

.

graphics

.

newQuad

(

0

,

64

,

128

,

64

,

imageFile

:

getDimensions

())

      frames

[

4

] =

 love

.

graphics

.

newQuad

(

128

,

64

,

128

,

64

,

imageFile

:

getDimensions

())

      activeFrame 

=

 frames

[

currentFrame

]

      

print

(

select

(

4

,

activeFrame

:

getViewport

())/

2

)

  

end

    

function

 love

.

draw

()

      

--love.graphics.draw(imageFile,activeFrame)

  

--[[    love.graphics.draw(imageFile,activeFrame,

  

        love.graphics.getWidth()/2 - (select(3,activeFrame:getViewport())/2) * 2,

  

        love.graphics.getHeight()/2 - (select(4,activeFrame:getViewport())/2) * 2,

    

            0,

  

            2,

  

            2)

  

]]

--

      

-- draw image 4x size centered

      love

.

graphics

.

draw

(

imageFile

,

activeFrame

,

          love

.

graphics

.

getWidth

()/

2

 

- ({

activeFrame

:

getViewport

()})[

3

]/

2

 

*

 

4

,

          love

.

graphics

.

getHeight

()/

2

 

- ({

activeFrame

:

getViewport

()})[

4

]/

2

 

*

 

4

,

          

0

,

          

4

,

          

4

)

  

end

    

local

 elapsedTime 

=

 

0

  

function

 love

.

update

(

dt

)

      elapsedTime 

=

 elapsedTime 

+

 dt        

if

(

elapsedTime 

>

 

1

)

 

then

          

if

(

currentFrame 

<

 

4

)

 

then

              currentFrame 

=

 currentFrame 

+

 

1

          

else

          currentFrame 

=

 

1

          

end

          activeFrame 

=

 frames

[

currentFrame

]

          elapsedTime 

=

 

0

          

end

  

end

  
The Video
Programming Tutorial Love2D Video
---