Sorry… absolutely can't resist that pun, no matter how obvious it is. Anyways… the Godot Game Engine has been on my radar since they announced they were going open source at the beginning of the year. Today they finally announced their 1.0 release today.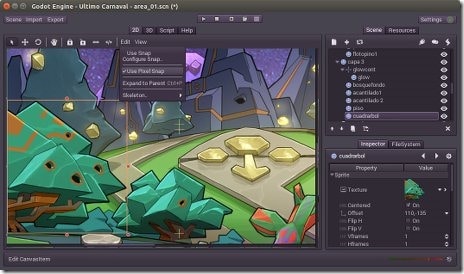 Never heard of Godot? It's a Unity-esque game engine, except powered by C++ and scripted using a Python-like scripting language. It includes a surprising number of tools and most importantly, a complete game editor (pictured right).
Godot works in both 2D and 3D, with 2D being a first class citizen, not just 3D minus a D. Godot runs on Windows, OSX and Linux. Godot is able to target iOS, Android, Desktops, Googles' NaCL, PlayStation3 and Vita, as well as HTML5 and Windows Phone coming soon.
You can read the complete feature list here.
You can browse available documentation here.
Godot is an open source project hosted on GitHub.
What do you think… are you interested in Godot, would you be interested in seeing GameFromScratch do some more in-depth coverage now that it's reached such a milestone release?
---