Earlier today Improbable released the following statement regarding their cloud based networking service SpatialOS:
Today we must regretfully inform our community of the following developments.

Unity's block of SpatialOS: The game engine provider Unity recently changed (Dec 5) and then clarified directly to us (9 Jan) their terms of service to specifically disallow services like Improbable's to function with their engine. This was previously freely possible in their terms, as with other major engines.
What this means: Unity has clarified to us that this change effectively makes it a breach of terms to operate or create SpatialOS games using Unity, including in development and production games.
Ongoing negotiation: Worryingly, this change occurred during an open commercial negotiation with the company to find a way to do more together.
Revoked Unity license: In addition, Unity has revoked our ability to continue working with the engine for breaching the newly changed terms of service in an unspecified way. This will affect our ability to support games.
Continuing service for all other engines: Users of all other engines remain completely unaffected and we are working with other engine providers to see if they can help support engine transitions for customers hit by this change.
The updated Terms of Service section 2.4 from Unity now reads:
2.4 Streaming and Cloud Gaming Restrictions.

You may not directly or indirectly distribute the Unity Software, including the runtime portion of the Unity Software (the "Unity Runtime"), or your Project Content (if it incorporates the Unity Runtime) by means of streaming or broadcasting so that any portion of the Unity Software is primarily executed on or simulated by the cloud or a remote server and transmitted over the Internet or other network to end user devices without a separate license or authorization from Unity. Without limiting the foregoing, you may not use a managed service running on cloud infrastructure (a "Managed Service") or a specific integration of a binary add-on (for example, a plugin or SDK) or source code to be integrated in the Unity Software or Your Project Content incorporating the Unity Runtime (an "SDK Integration") to install or execute the Unity Runtime on the cloud or a remote server, unless such use of the Managed Service or SDK Integration has been specifically authorized by Unity. Additionally, you may not integrate the Unity Runtime with a Managed Service or SDK Integration and offer that integration to third parties for the purpose of installing or using the Unity Runtime on the cloud or a remote server. For a list of Unity authorized streaming platforms, Managed Services and SDK Integrations, click here.This restriction does not prevent end users from remotely accessing your Project Content from an end user device that is running on another end user device. You may not use a third party to directly or indirectly distribute or make available, stream, broadcast (through simulation or otherwise) any portion of the Unity Software unless that third party is authorized by Unity to provide such services.
In a nutshell, the new ToS seem to prevent running any portion of the Unity runtime on a cloud based install without prior licensing of the cloud hosting company and Unity directly. The timing of this is quite interesting following on the heels of a partnership between Unity and Google to provide cloud based networking services.
In the meantime, developers that built their game around Unity and SpatialOS are going through a bit of a rollercoaster ride of emotions right now, such as Spilt Milk Studio: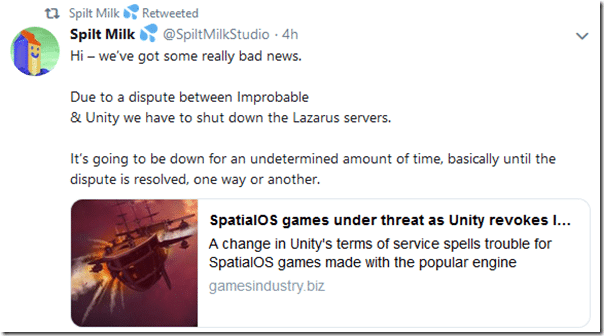 Followed by:

Unity have not yet released a public content although their forums are quite… lively.
UPDATE: Tim Sweeney, founder and owner of Epic Games was quick to comment upon Unity's gaff here and to reassure Unreal Engine developers that this wont happen to them:
---