Welcome to the first ever Steam Powered Game Dev review, a look at game development tools available on Steam.  This post looks at FUSE character creator by Mixamo.  In addition to this text review, you can watch the entire thing in video form by clicking right here, or using the embedded player at the bottom.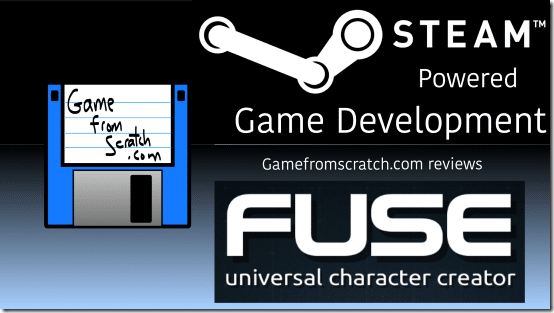 Product
Fuse Character Creator
Product Type
3D Graphics Application
Steam Store Page
Current MSRP
$99 USD
Steam Discount at Time
75% off
Product Website
Available On
Windows, Mac
---
First let's start with what Fuse is.   It's a character creation package, for generating fully textured 3D character models.  If you've ever used Smith Micro's Poser or Daz Studio, you should have a basic idea what to expect.  However, Fuse varies from those packages in some very significant ways.
It is entirely about character creation, there is absolutely no animation built in.  Don't worry, this isn't a big deal as we shall see shortly.
It is by far the easiest to use of the three.  Quite literally anyone could use Fuse successfully.
It makes for extremely customizable characters, both in regards to model and textures.
It has some of the most confusing pricing you will ever see!  ( Actually, Daz is worse! )
Character Creation
Let's jump right in and you can see what I mean.  On it's surface Fuse is remarkably simple.  You start of by selecting various body parts, like so:
Basically you go through 4 stages.  The first is to build your character model out of body parts.  The above screen shot shows an assembly with a Zombie head selected and torsos being chosen.  Currently for example, there are 34 different torso shapes to be chosen from, ranging from teen cartoon to adult skinny zombie. 
Here is a fully assemble teen female character for example: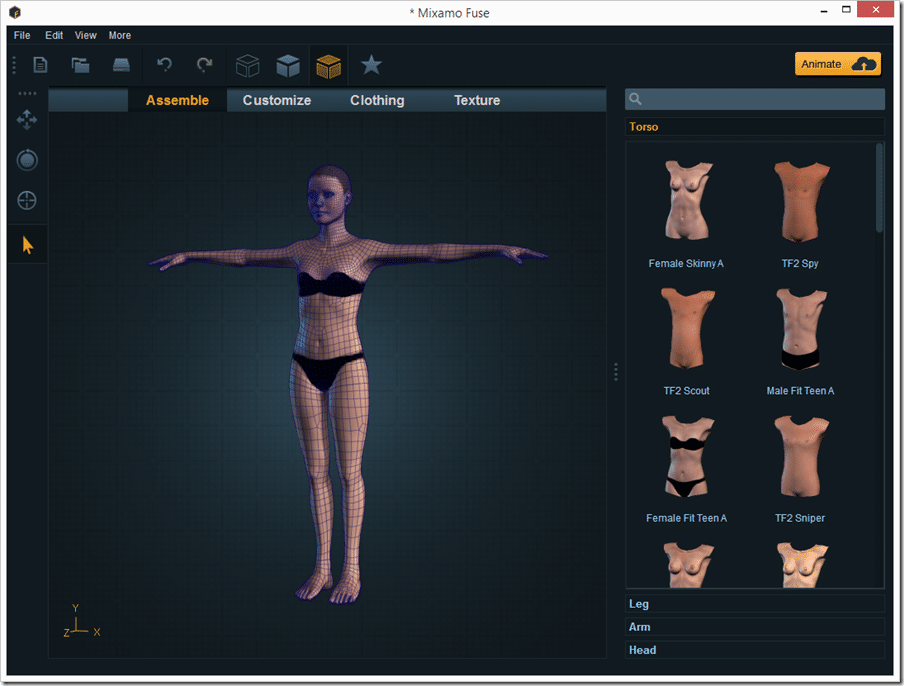 You can mix and match body parts however you'd like.  You may be asking at this point… what about creating your own body parts, can you do that?  Yes, you can, I will cover that shortly!
Character Customization
Now that you've assembled a basic character by setting the head, arms, torso and legs to use, it's time to customize.  Simply click the Customize tab and continue, like so:
If you've ever played a video game that gave you an incredible amount of control over your character's creation, you should have some idea of how the process works.  This however goes into a staggering level of detail, with control over pretty much every single facet of your character.  You've also always got the Randomize button, which you can simply keep spamming until it spits out something your like.
In addition to using sliders, you can also use the mouse to interactively sculpt the features you want to change, like here with the nose selected:
Clothing your Character
Next it's time to cloth your character.  One again you simply click the clothing tab.  By the way, you can go back to any of the previous stages at any time if you require.  Clothing works pretty much the same way as character creation: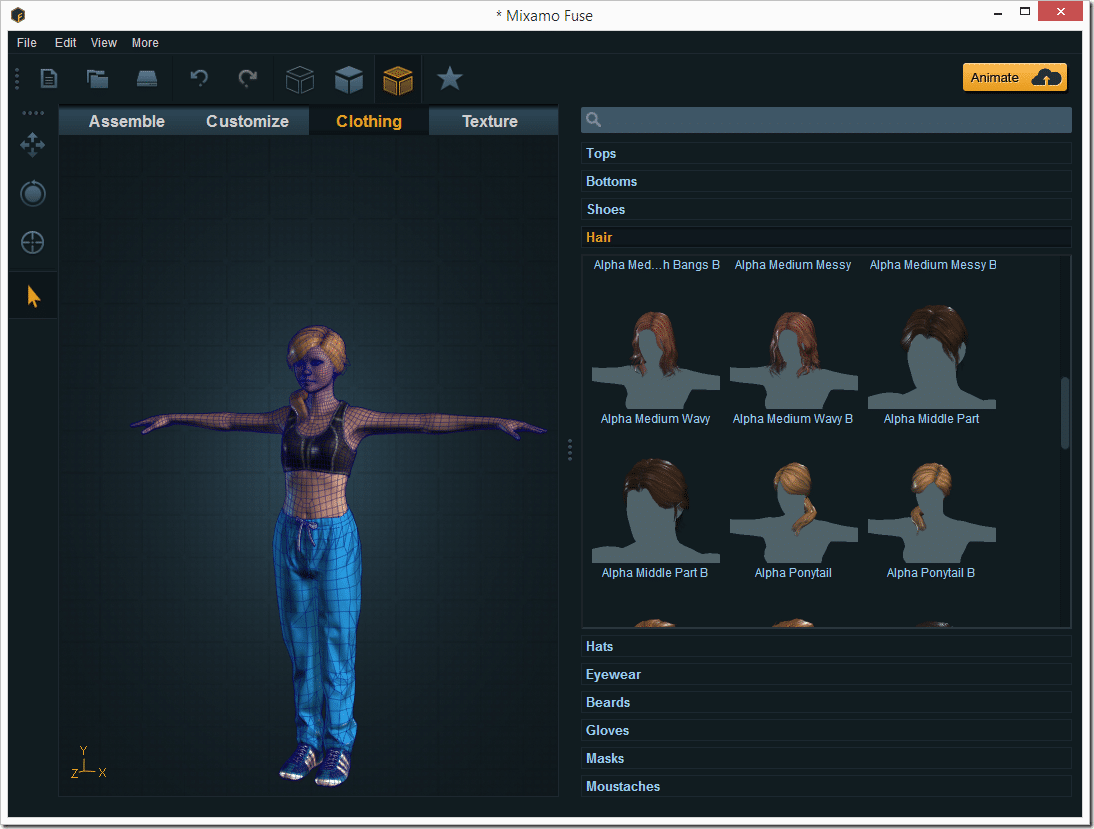 For each various body part you can choose from a number of different outfits or styles.  If you are wondering, yes, you can give women beards or dress men in thongs if that's what floats your boat.  There is a decent selection of models available to get started but no doubt you want to know if you can import your own?  Once again, the answer is yes, and once again, we will get to that shortly.
Texturing Your Character
Now that we've got a fully dressed 3d modeled character, it's time to customize the texturing.  This is an area where Fuse absolutely shines!  They have partnered with Allegorithmics to package in their Substance technology for texturing and it's powerful stuff.  For example, when setting the characters skin texture, here is how it works: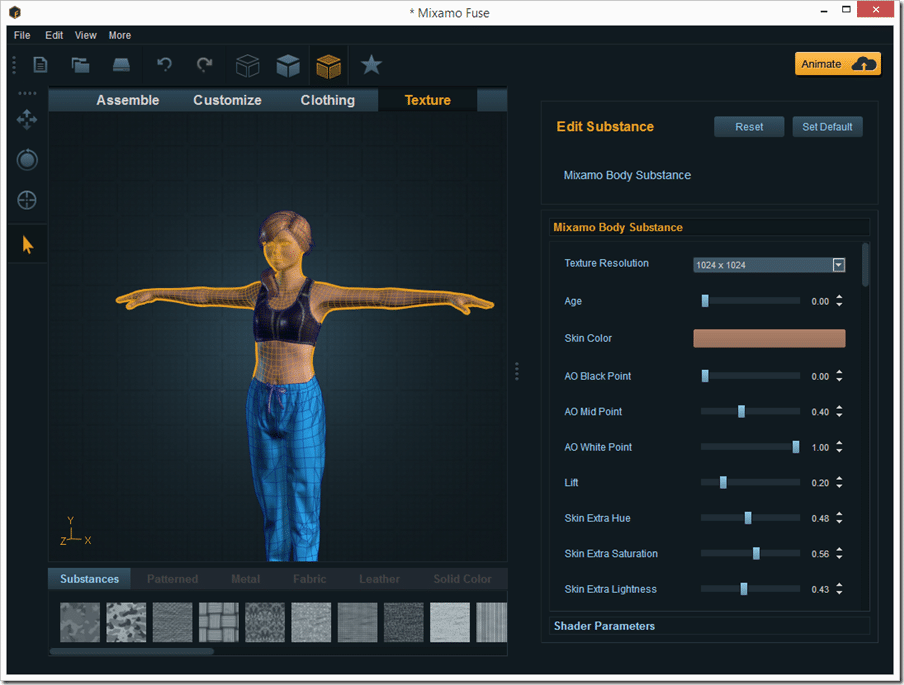 So you can set a basic base skin color, then rapidly modify it using intuitive sliders like "age", "eye shadow color", "lipstick" etc.  Plus you have control over the end texture resolution, a critical requirement for games.  You can generate a texture anywhere from 64×64 to 2048×2048.
It's the sheer volume of controls available for substances that is most impressive, this is just for the skin component:
You can configure each and every part of your character, using premades like "jean" and sliders like "dirt level" and "age".  It makes texturing incredibly simple, although there is no option for placing decals or multi texturing right now.  You do however get a fair bit of control over shader performance: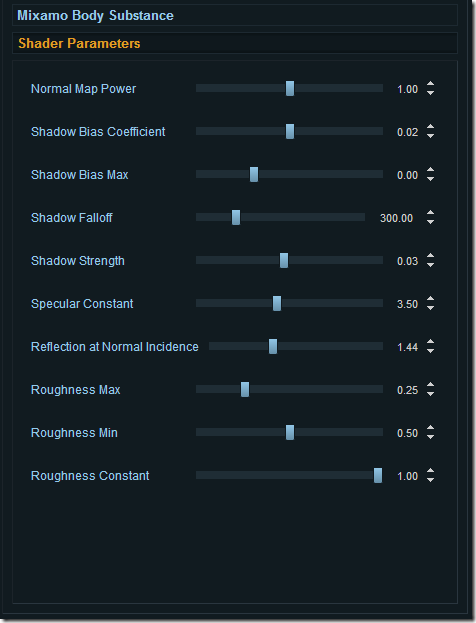 So, essentially that is the process of creating and texturing a full 3D character.
Now it comes to animation, and this is where things get a bit confusing…  but first…
Getting Your Own Content In
As I mentioned earlier, yes, you can import your own body parts and clothing into Fuse, as well as Substances.  However there is a bit of a gotcha, there always is.
The process is actually quite simple.  You model and UV map in your favorite 3D application, then export in OBJ format, an ancient and simple 3D file format that pretty much every 3D application supports.  However, you do have to follow strict guidelines available here.
Animating Your Character
Although Fuse doesn't do animation, it's exactly what the company that make it, Mixamo, does.  Mixamo offers a cloud based animation service and Fuse can hook directly into it.  Basically to get started, you simply click the Animate button when your character is prepared:

Your character will then by automatically uploaded to Mixamo's servers.  Advanced warning YOU NEED TO HAVE THE UNITY 3D PLAYER ALREADY INSTALLED!
Otherwise your file will upload then you will get an error.  Pretty stupid that Fuse doesn't check for it automatically, but c'est la vie.
I'm going to go fairly light on my coverage of Mixamo, as it's basically a completely different site and service.  You can see a bit more of it in action in the video if you wish.
The basic process goes like this… when you hit Animate in Fuse, your character is uploaded to Mixamo and automatically rigged.  You can then apply different premade animations to your character ( or none at all if you wish ), then download your character.
Here is Mixamo in action creating an animation sequence:
There are hundreds of animations available, some completely free, some for a fee.  We will discuss money in a moment.  Here again you have decent control over your character and you can sequence multiple animations into a single file.
Next you download your file from Mixamo's server.  Any file your created will be available, so you can re-download to your hearts content.  You simply go to your My Characters" page and select the character to download:
On the download page, you can select in what format you want the file to be downloaded:
You can come back at any time and select a different format, or use different settings.  Now let's look at the finished project imported into Blender:
The character texture, with bones showing in x-ray mode.  There we have it… a fully rigged, textured character with a walk cycle.  All told it took me about 5 minutes to create this character.
Oh, and you might be wondering, what if I don't need animation, can I still use Fuse?  Yes, yes you can.  There is an option to export as OBJ format, which again, is available in pretty much every 3D application available.  Of course, the results wont be rigged.  You have a bit of control over the results, but not a ton.  Sadly I couldn't locate a place to set a polygon budget for example.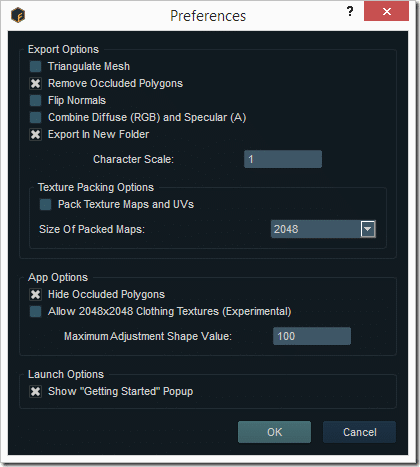 I believe it is the simplest way to get a game usable rigged character into a 3D modeling application.  There are other options, Autodesk has their own Character Generator, there's Make Human and of course Poser and Daz that I mentioned earlier.  Fuse however just hits that sweet spot between ease of use and power that I appreciate so much.  With the exception of the missing Unity Web Player, I encountered no technical issues at all.
There is however the cost…
The Cost
Cost is an interesting subject and can be a bit confusing when dealing with Fuse.  First off, there are two versions of Fuse available on Steam, Fuse Basic and Fuse.
Fuse Basic is a stripped down version, far less body parts, far less character pieces to work with, less textures, etc.  You can however download it completely free, and I encourage you to do so, if only to see if Fuse performs well on your PC.
However, Fuse has one HUGE advantage over Fuse Basic, and something that makes it an incredible bargain.  If you buy Fuse on Steam, you get two free auto rigs a week.  This means that you can have Fuse rig two characters you send to Mixamos server each week.  Now we are about to see the value of Fuse when we look at Mixamo's pricing.
The are the "bundle plans" on an annual basis:
And here are the "À la carte" prices:
Suddenly those 2 free auto-rigs a week start becoming a hell of a good deal.  The $100 purchase of Fuse on Steam pays for itself after 2 characters are rigged!
What tier you need ultimately comes back to your individual requirements.  Myself, I move at a snails pace, so I highly doubt I will be working on more than two different character riggings per week, plus I am capable of making my own animations if required.  If you are absolutely spitting out characters or use tons of animations however, one of the bundles may be the way to go.  The economics of Fuse Basic though are always bad, especially if you can find Fuse on sale like I did. 
The Video Version
Summary
If you need 3D animated characters, Fuse is certainly worth looking at.  With the ability to import any body parts or props into Fuse, you can make pretty much any character you require, assuming you have the ability.  If you have no 3D modeling skill, the breadth of props available in Fuse probably aren't enough to do everything you need.  If on the other hand you are a great modeler, but terrible animator, Fuse is absolutely perfect for you.
There are a few things I wish that were different.  I wish you had more control over mesh generation and polygon counts specifically.  All told though, I have never encountered a package that enabled me to create animated and actually game usable models anywhere nearly as easy as Fuse does.  I certainly do not regret my purchase.
---