Today Unity released EditorVR, an experimental build of Unity that enables you to work (partially) in VR. This means you will be able to layout scenes, modify existing scenes and adjust components in Unity while using a VR headset. Currently EditorVR supports the HTC Vive and Oculus Rift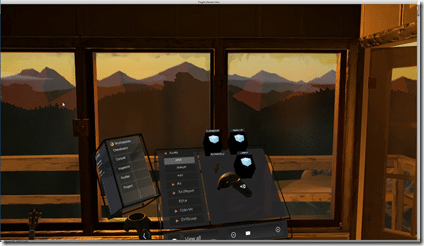 headsets.
Details from the announcement:
Easily make VR tools and run them in Unity. EditorVR is now available for free, today!

You may have been following our progress with constructing environments for VR in VR. Now it's your turn. Today, you can download the EditorVR Experimental Build and the EditorVR Unity Asset Package. There is so much more we're looking to add, but we think that enough of the foundation is there that we no longer want to hold this out from the community.

For now, if you're building VR games and experiences, EditorVR will likely help you with:

Initially laying out a scene in VR
Making tweaks to existing VR scenes
Making adjustments to components using the Inspector workspace
Building your own custom VR tools

At Unity Labs, we are on a mission to explore the long-term view of where creation technology is headed. At our Unite demo last month we gave a final peek at the experience of building out an environment in real-time using VR-specific UI (many thanks to our friends at Campo Santo for providing the beautiful Firewatch scene). You can build directly in the headset, on both Vive and Rift. Learn more about how to use it here.
EditorVR was first previewed at Unite 2016 last month, shown in the video below.
---