It's not very often I am surprised by the existence of a previously unknown to me 3D application, as I tend to pay attention to these things. It's even rarer that such an application is free, as I am a huge fan of free tools. It's almost a blue moon scenario when its TWO applications we are talking about! Well, that's exactly what just happened, I learned of the existence of two, completely free, 3D modeling applications and I figured I would share them here. Both apps are very different in scope and what they are trying to accomplish. Both are also fairly young in their development cycle, so expect crashes and unexpected behavior from either application.
Dilay is probably the easier of the two applications to explain, so I'm going to start with it. Basically, Dilay is an open source sculpting application such as zBrush or Pixologic. As the later is no longer being developed and the first one is quite expensive, this is without a doubt a good thing. Of course, Blender has sculpting features, but there are certainly flaws in it's implementations.
The interface in Dilay is extremely straight forward. You essentially work in one of two modes, sculpting and sketching. Here is the sculpting interface in action: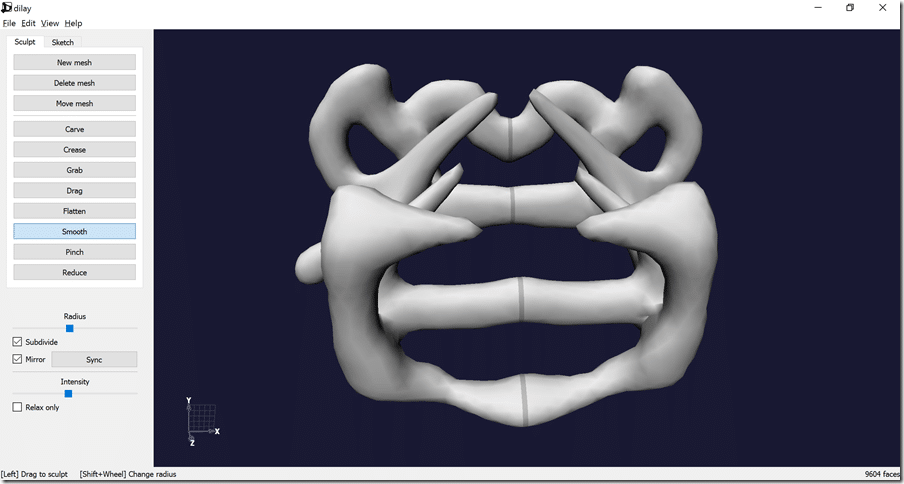 If you've used zBrush/Sculptris/3D Paint/Mudbox at this point, you have a pretty good idea what to expect. Generally you start with a simple mesh like a sphere and then sculpt as if working with virtual clay. The sculpting can easily be mirrored across the center axis for symmetric objects. The tools are pretty straight forward, you can carve, crease, grab, drag, flatten, smooth and pinch your object into the desired shape. Nicely, you can also reduce, which enables you to dynamically reduce the polygon count of the mesh you are creating.
The other mode of operation is Sketching. Essentially you shape your base model using a series of spheres. Somewhat confusingly you need to delete your sculpt before you can sculpt. Now it's mostly a matter of painting a series of spheres that will compose your base mesh.
When you are done, simply click Convert Sketch, and it will be ready for editing in the sculpt interface.
When you are done, objects can be saved as obj files, a format that is supported in pretty much every single 3D application created in the last decade. There are some glitches, I experienced a couple of crashes (for example, don't enable wireframe!), but it is certainly a usable tool at this stage. Dilay is open source and released under the GPL license.
Polybrush is a much harder application to explain. I think the easiest description is, it's a 3D sketch modeler. The entire idea is to create 3D models quickly using a combination of sketching, user generated brushes and symmetry. The results are actually pretty astonishing. The application is more stable and complete than Dilay but the interface is also extremely obtuse and will require a much steeper learning curve.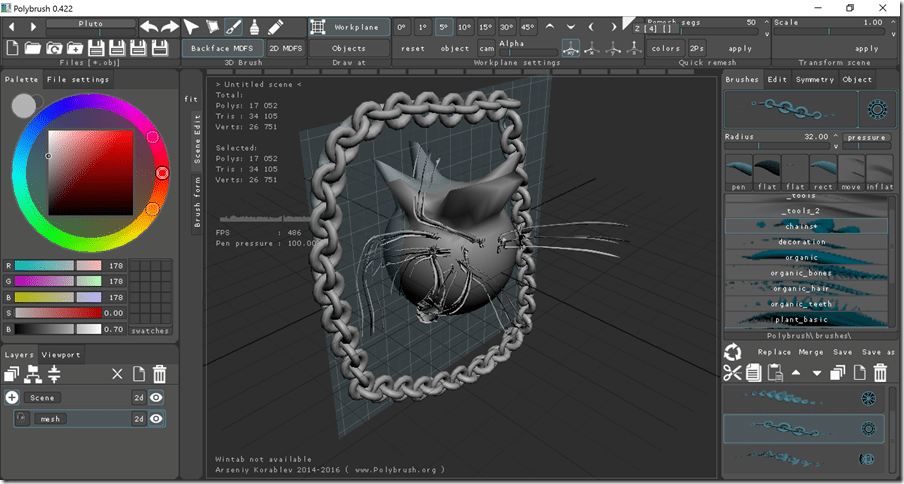 Here you either create your own 3D volume brush or use one of the included brushes, then either paint on the construction plane, or one another existing object. Brushes can in turn be applied to the surface of an existing model, giving you rapid sculpting abilities with dynamic brushes. You can also work symmetrically across a number of different axis.
Like Dilay, Polybrush also exports in OBJ format. The exe weighs in at a paltry 4mb with the included brushes and at 2mb without. It's also remarkably fast, I made some fairly complicated scenes while running on my integrated Intel GPU and never experienced a slowdown. The application is quite robust and vast, offering layers, 2D and 3D sketching, 3D primitives, the ability to define your own brushes and much more. It's a cool application once you get past the somewhat confusing interface. It does however have a community behind it, so getting support is a heck of a lot easier than Dilay. Polybrush is closed source software.
I will actually be posting quick videos showing both applications in action shortly. Both are small downloads and completely free, so if you are in the market for a modeling or sculpting application, I recommend you check both of them out.
EDIT – A video of Dilay in action is now available.
---